The original language of this site is English.
Horse Country Magazine
The article below, titled "Through the educated eye of an Equestrian Marshal", appeared in Horse Country Magazine (Issue 3 • 2015), written by Tara Reimer.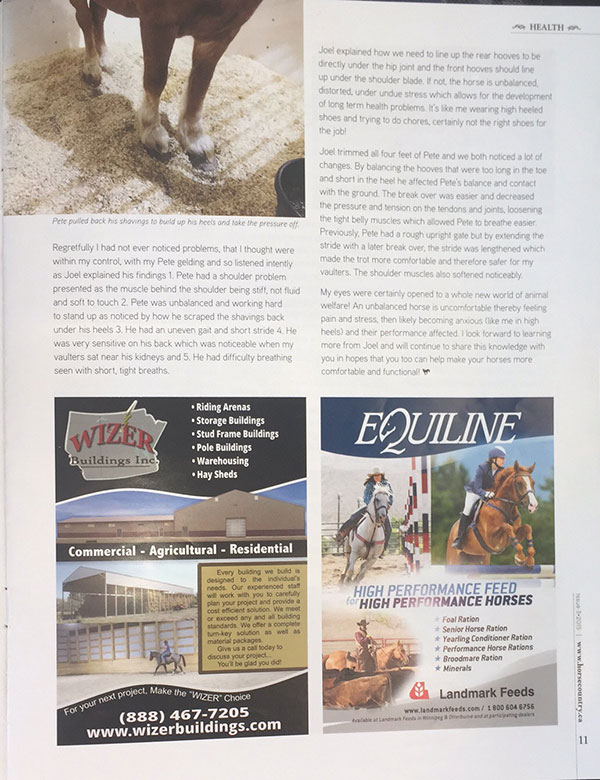 American Farriers Journal – 2019 Farriers Week: Farriers Spotlight

A profile of my grandfather, Alphee Bernie, appeared on the American Farriers Journal website for Farriers Week 2019.
My mentor was my grandfather, Alphee Bernier. He was a Red Arrow in the Army and started studying with his mentor Arthur Laprise, an Equestrian Marschal in Ste. Claire, Quebec, at the age of 8. The most important thing I learned from him is understanding how non-domesticated horses take care of their hooves and being honest with yourself is being honest with the horse. Never wear a watch; it takes the time that it takes. Look at your horse walking and you'll know how to trim him and above all make the horse your teammate because his is 10 times stronger and faster than you. I can fill up books with what my grandfather taught me and I teach my students the same way with the same basic tools and knowledge. – Joel Bernier, Brandon, Manitoba
The first My Horse My Teammate Website